Mike Hudak
Ranching's Other Victims: Free-living Animals

--------------------------------------
Websites
Public Lands Without Livestock
"Vegan Rainbow" is a weekly 1-hour interview radio show co-hosted by Mike Hudak that focuses primarily on animals, environmental conservation and social justice. Audio files of the shows are provided online in mp3 format for downloading.
---
Western Turf Wars: The Politics of Public Lands Ranching

Profession or Area of Expertise
Director, Public Lands Without Livestock a project of International Humanities Center; photographer, lecturer, writer.
Personal Statement
I'm a former computer industry researcher now devoting my efforts to environmental advocacy. I received the doctorate in Advanced Technology (specialization in Computer Science) and a bachelor's degree in Mathematics from the State University of New York at Binghamton (now Binghamton University), as well as a master's degree in Computer Science from Northwestern University. My doctoral and subsequent industrial research focused on the development of adaptive, artificial neural systems and their application to signal analysis. (See my article about Restricted Coulomb Energy Classifiers for an example of this work.)

During 1993-94 I was the Binghamton (NY) Regional Coordinator for the Beyond Beef Campaign which mobilized grassroots support in favor of McDonald's offering a vegetarian burger at all its North American outlets.

In 1997, after several years of observing livestock impacts while hiking on western public lands, I undertook an intensive study of livestock production both by reading and by travel across the West--travel that currently totals more than 18 months.

Between February 1998 and May 2000 I gave 45 photographic presentations to groups, chapters and committees of the Sierra Club throughout 20 states in an effort to rally support for the Club opposing public lands ranching. I also wrote several articles for Internet display as well as for publication in Sierra Club group and chapter newsletters. By the summer of 2000 I'd obtained resolutions from 15 chapters and 22 groups representing 37% of the membership calling for the Club's opposition to commercial livestock grazing on federal public lands.

From June 1999 to May 2000 I was also a "resource person" to the Sierra Club's Grazing Task Force. In this capacity I was privy to actions of Club entities as they pertained to the Club's grazing policy. For example, I learned in December 1999 that the Club's National Board planned to consider revising the grazing policy at its May 2000 meeting. When, in early May, the Board chose to postpone discussion of the grazing policy until its September meeting I concluded that I needed to immediately begin qualifying a member ballot initiative as an alternative to Board action. Otherwise, were the Board to approve a weak policy at its September meeting or to further postpone action, it would then be too late to qualify such a ballot initiative for the next year's Club election. Consequently, I called for the qualification of a ballot initiative in support of ending commercial livestock grazing on federal public lands. My efforts alone resulted in obtaining roughly 600 of the 1,307 signatures the initiative needed to qualify. Dozens of Club activists obtained the rest.

Simultaneously with gathering signatures on the ballot petition, I chaired a Sierra Club subcommittee that advocated the Club's adoption of conservation policy in support of ending commercial livestock grazing on federal public lands. (Read the policy proposal that our subcommittee issued for consideration by the Club's Board at its September 2000 meeting.)

Negotiations in which I participated at the September 2000 meeting led to the grazing policy adopted by the Club's Board of Directors at that time. Despite weaknesses in this policy I thought it sufficiently strong to enable the Club to support a national campaign advocating either the voluntary or mandatory retirement of federal grazing leases with financial compensation to ranchers. As such, I gave the agreement my tentative support and called for the withdrawal of the ballot initiative for the following year. Some Club members with whom I'd worked on the petition drive disagreed with my views and completed qualifying the initiative which was subsequently defeated by more than a 2-to-1 margin in the 2001 election.

Despite the new policy's potential weaknesses I am nevertheless gratified that one of its provisions, not available under the previous policy, has been used to good advantage by some of the Club's groups. (See, for example, Glen Canyon Group, Utah Chapter.) The policy has also allowed Club endorsement of the National Public Lands Grazing Campaign's federal legislation that would provide compensation to ranchers who voluntarily relinquish their federal grazing permits.

In the years since adoption of the Sierra Club's current grazing policy I have continued my investigations of western grazing allotments and to write articles, to develop Internet photo essays and to speak at a variety of organizations throughout the United States about unsustainable ranching practices on America's public lands.

Awards and Affiliations

By and About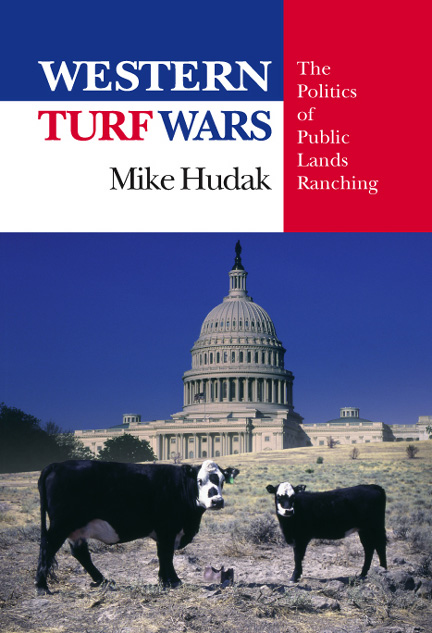 Western Turf Wars: The Politics of Public Lands Ranching

Under the hood of public rangeland management: a book review of "Western Turf Wars"
Review/Trailer - Western Turf Wars: The Politics of Public Lands Ranching (2007) RealPlayer Google/Flash MySpace/Flash
Public Lands Ranching: The Scourge of Wildlife. Mike Hudak. January 5, 2009
Ranching's Other Victims: Free-living Animals (2008)
Videos by Mike Hudak: During 2003 and 2004 Mike Hudak interviewed grassroots activists and former government personnel about the management of livestock on public lands in the United States. The videos are based on those interviews.

"Mad Cow" One More Sign of a Dysfunctional Ag Industry. Sierra Atlantic, Spring 2004, Vol. 31, 6.
Book Review: Welfare Ranching: The Subsidized Destruction of the American West, edited by George Wuerthner & Mollie Matteson, Island Press (2002). VegNews, 27/28:46, January/February 2003.
Public Lands Ranchers: Heading for the Last Roundup? VegNews, 25:12-13, October 2002
Our Federal Public Lands: Wildlife Habitat or Cattle Pasture? Satya, 7(10):17-18, June 2001 (917 words)
Our public lands: Wildlife habitat or cattle pasture? Reprinted from Animal Free Press, Spring 2001 (499 words)
Our Federal Public Lands: For ranchers or wildlife? The VivaVine, April/May 2001
Commercial Livestock Production on Federal Public Lands: Environmental Destruction at Taxpayer Expense. June 29, 2000
Why the Sierra Club Should Adopt a Policy Opposing Commercial Livestock Grazing on Public Lands. Reprinted from Canyon Echo, newsletter of the Grand Canyon Chapter (Arizona) Sierra Club, May-June 2000
Comments on livestock articles in Sierra magazine March/April 2000
Deficiencies of Sierra Club Policy Code 10.5 "Grazing On The Public Lands" (Adopted September 12, 1992) and Arguments for the Adoption of a Provision Opposing the Grazing of Domestic Livestock on Federal Public Lands. February 27, 2000. Policy was replaced at the September 23, 2000, meeting of the Sierra Club's national board.
Pro-Livestock Industry Propaganda Disseminated by the Sierra Club. Originally published in Rio Grande Sierran, newsletter of the Rio Grande Chapter, November/December 1999
To Graze or Not To Graze? Originally published in Chesapeake, newsletter of the Maryland Chapter, Sierra Club, September/October 1999
"Winning the War for the West" critique of article by Perri Knize, The Atlantic Monthly, July 1999